Short term loans are ideal when you need money quickly and know you'll be able to pay it back after your payday or over the course of the next few months. Applying for a loan is simple, but not everyone is accepted so we've put together some tips on how to get a short term loan and increase your chances of being accepted.
How To Apply For A Short Term Loan
Applying for a short term loan is easy and doesn't take long, but why not read our steps below to make sure you don't forget anything.
1. Find an FCA Authorised Lender
You can use a price comparison website, recommendations from friends or do some research through Google to find a lender, but when you're looking, you should check that they are regulated and authorised by the FCA. This helps to ensure that you're borrowing money in as safe a way as possible.
cashasap.co.uk is FCA regulated and authorised, providing both payday and instalment loans to people in the UK. Use our price calculator tool to see what rate we could offer you.
2. Check Their Criteria
Every lender will have set criteria that you must meet in order to apply and be accepted for a loan. Check the criteria of your chosen lender to make sure that you fit the bill before you apply.
3. Use Their Online Application System
Short term loan lenders will have online application systems to make borrowing money easy. Fill out all the information and be accurate; if you give incorrect information it could prevent your loan being accepted.
You then simply wait for your application to be processed and approved. Most short term loan lenders process the applications from start to finish within a few hours so you get money on the same day you apply.
Improve Likelihood of Acceptance
You should only apply for a loan if you think that it's likely that you'll be accepted.
When you apply, the lender will run a search on your credit file. This search stays in your record so future lenders (from those providing other short term loans through to car finance plans) can see that you applied for a loan, but they can't see whether or not you were accepted. If you're not accepted and therefore have to apply for a different loan, it will look like you've applied for loans lots of times, suggesting you're not a financially viable candidate.
Read our tips below on improving your likelihood of acceptance when getting a short term loan.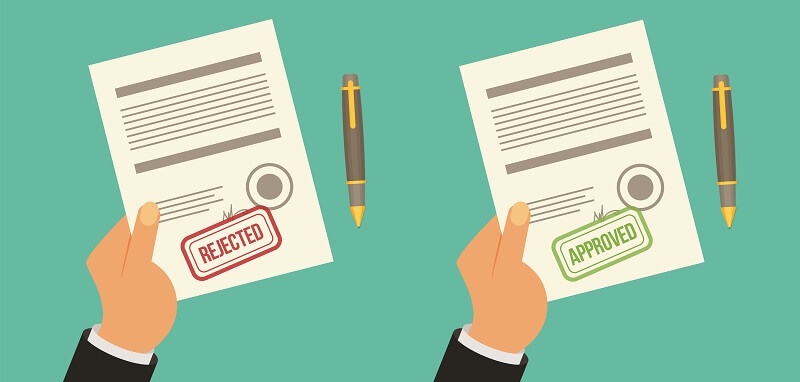 1. Read the Criteria
We've mentioned already that this needs to be part of your application process, but it's worth saying again. Read the lender's minimum acceptance criteria so that you only apply to places that will accept you.
It will often include criteria such as needing to be in employment, over 18 and living in the UK.
2. Know How Much You Can Afford
When looking to get a short term loan, it's important that you only borrow money that you know you can afford to repay by the date agreed with your lender. You should look at your budget for the month/s ahead so you know what you can afford. Lenders will look to see whether you meet affordability criteria.
You should also only apply for the specific amount that you need. cashasap.co.uk lets you borrow money to the nearest pound so you never pay for more than you need. This helps to make it as likely as possible that you'll be able to afford repayments.
3. Improve (And Know!) Your Credit Score
Look at keeping your credit score in the green by always making repayments on time. It's important that you consider your credit score, and look at improving it, before you want to borrow money. Most Llenders will always check your credit file before accepting your application and will rarely lend to people with bad scores as it suggests they are unreliable borrowers that might not pay back the money.
There are various ways that you can improve your credit score, but they all come back to making repayments on time. Some simple ways are to keep up with payments on your phone contract or to have a credit card that you use for small and regular costs that you pay off in full every month.
Read more tips on how to improve your credit score on our blog.
You can ask for the three main credit reference agencies in the UK to send you your credit report so you understand whether you're likely to be approved for a loan.
4. Register On The Electoral Roll
Even if you don't want to vote, being registered on the electoral roll will help you to be accepted. It makes it easy for lenders to verify your identity and information, and therefore helps to ensure that your application goes through smoothly.
5. Show Financial Responsibility
You need to show a lender that you're a reliable borrower and are financially responsible. If you appear to be dependent on loans, then lenders are less likely to accept your application as it indicates that you're not very financially stable and therefore might not be able to pay back the loan.
6. Pay Off Old Debt
Your application is unlikely to be approved if you already have a short term loan that hasn't yet been paid off, or if you have other forms of debt. In fact, it's a sign that a lender is irresponsible if they do lend money to people who are already in significant debt and they might not be a reliable source to borrow from.
It's important that you pay off existing loans or debt before you apply for anything else. Not only will this increase your likelihood of being accepted, it will also help you to avoid serious financial difficulty.
If you are having financial problems, then talk to a charity or government help scheme such as the Money Advice Service.
7. Avoid Bad Financial Connections
Everyone has a personal credit score and credit file. Even if you're married, your credit score won't be impacted by your partner's. However, there are exceptions to this: if you enter into a financial contract, or similar situation, with another person. For example, a joint mortgage or other finance plan. Even having your name on a bill with another person can have the same impact.
If that person has a bad financial record, it can then impact your own credit score and therefore your likelihood of being accepted for a loan.
If possible, you should try to avoid being tied to another person's financial record, especially if you're unsure of that person's credit score or reliability when it comes to making payments.
8. Fill Out Information Accurately
To get a short term loan, it's essential that you fill out the application forms accurately. If you put incorrect information on your form, even accidentally, then it can not only slow down the process, but lead to rejection of your application. This could negatively affect your likelihood of being accepted for a different loan.
If you're looking to get a short term loan, then following our tips should help you to increase your likelihood of acceptance. cashasap.co.uk are an FCA authorised and regulated direct lender. Check out more information about our payday or instalment loans.